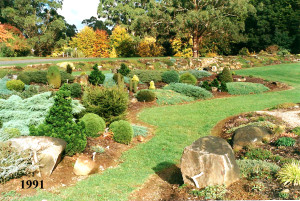 The Society was established in 1932, and is a self-funded volunteer organisation that is constituted to:
Promote and encourage the study, practice and development of horticulture
Bring together members of the community with a common interest in horticulture
Provide and operate facilities for these purposes
The 4 hectare (10 acre) ornamental garden is situated in the Dandenong Ranges in close proximity to Sherbrooke Forest at an elevation of 500 metres. In addition to the wide variety of established plants, there are also splendid views of the nearby hills with the Great Dividing Range in the distance.
Within the organisation there are a series of specialised sub-groups. Members are invited to join any or all groups depending on their interests. These include:
Craft
Garden & Grounds
Propagating
Rhododendron & Camellia
Rock Garden
Most groups conduct monthly meetings concentrating on the development of their particular specialty. The meetings offer interesting talks by informed speakers, discussion groups, garden visits and practical sessions. These meetings also include presentations by attendees of plants and flowers from their gardens (which do not have to be of Show quality, nor do they need to be rare or unusual specimens). It is an opportunity to show what is growing well in your garden and to obtain help with identification of plants or advice for plants that are not thriving.
All groups support the three Flower Shows and the Plant Collectors Sale & Garden Expo. Monies raised support the Society's activities and maintenance of the garden and infrastructure.
On Monday and Thursday mornings general gardening and maintenance is carried out in the garden.
An extensive horticultural library is available for members to use and a newsletter is published regularly.
Membership subscriptions are relatively low cost however there is no need to subscribe before attending one of our activities. Click here for further information.
If you enjoy gardening you will fit right in. Specialist experience, whilst welcome, is not necessary. Please join us!